IPWA Key Welfare Indicators Reference Guide
— WE BELIEVE A BETTER FUTURE WILL BE BUILT BY COMING TOGETHER OVER THE VALUES WE SHARE.
While there are different welfare programs and standards used around the world, there was a need for a comprehensive list of outcomes-based key welfare indicators with standardized instructions for the measurements that can be used in different poultry species and at different production stages. IPWA's subject matter experts formed multistakeholder groups to discuss and develop a list of KWIs that can be applied to poultry, broken out by the specific needs of broilers, layers, and turkeys.
Members of the IPWA Poultry Health & Welfare Committee, who served as the primary authors, included 57 production managers, welfare program supervisors, business owners, veterinarians, and other professionals actively involved in the creation, implementation, or verification of welfare protocols for poultry. Their expertise and current work covered every poultry market in the world.
The IPWA Research & Education Committee completed a rigorous academic review and revision process of the guide, bringing together 18 research experts from the world's leading institutions and growing poultry research programs. IPWA is also led by a diverse board of 14 directors that oversees the execution of the strategic vision of the organization. They also reviewed the numerous drafts of the KWI Guides and drove revisions that ensure this resource holds true to IPWA's mission to uphold credible science and a transparent approach to welfare.
This guide was opened for full membership and public comment to gather even wider input into what is most needed in the industry to drive improved welfare outcomes in poultry through better assessment. Thank you for being a part of this development process. Direct any questions to
info@poultrywelfare.org
.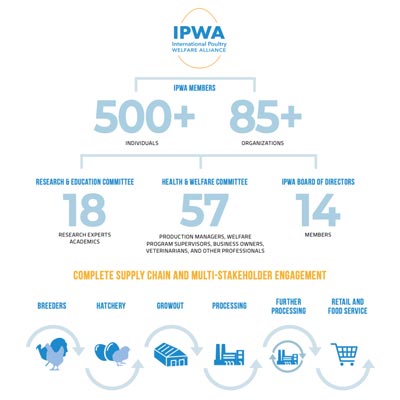 View the Current KWI Guides