International Poultry Welfare Alliance
Welfare Insights
Expert Panel: Improvements in Poultry Welfare Research and On-Farm Management
July 2021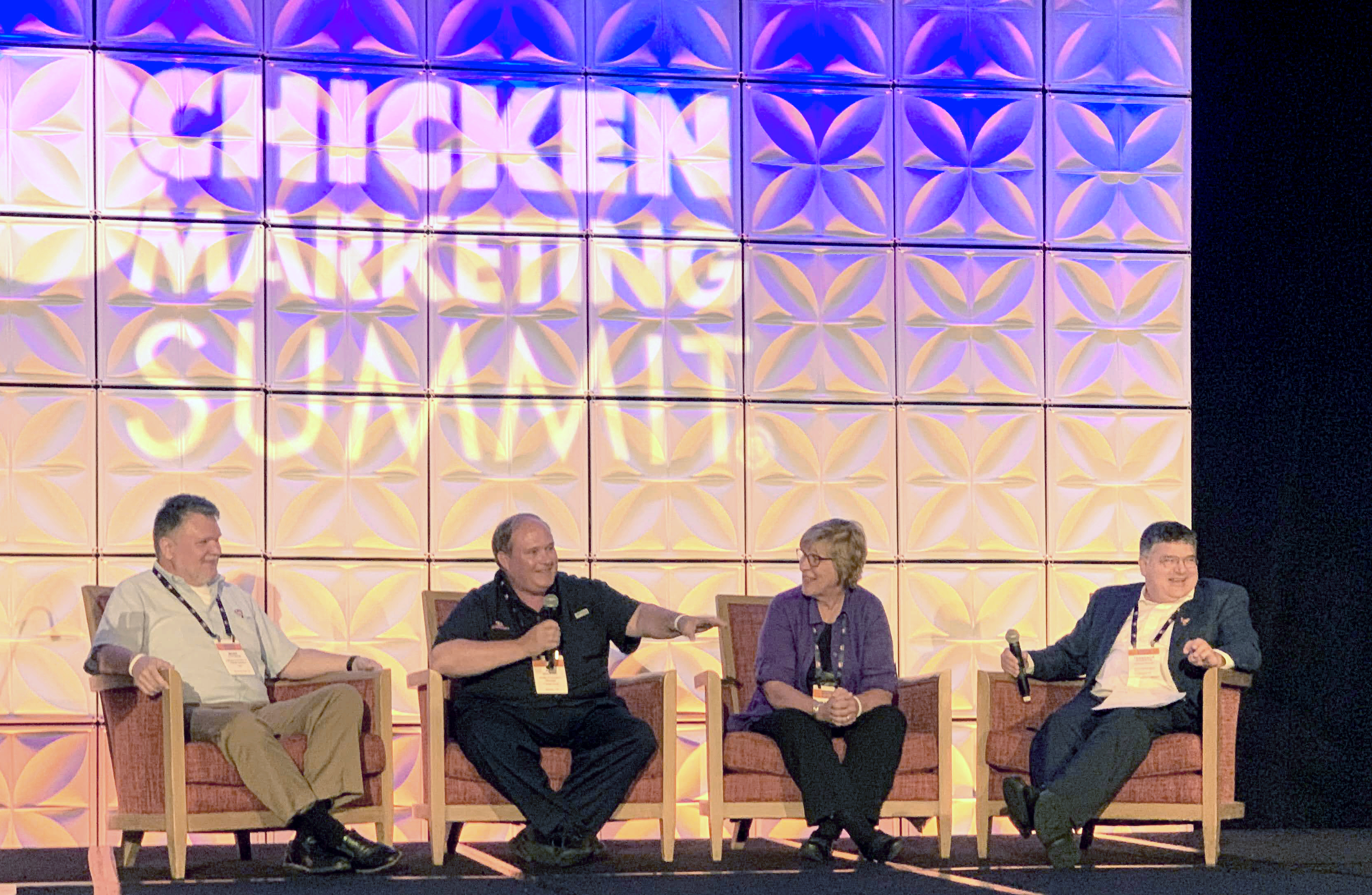 Karen Christensen, Ph.D., senior director of animal welfare, Tyson Foods
Ken Martin, broiler production manager, Fieldale Farms
Mark Cooper, Ph.D., managing director, global genetics, Cobb-Vantress
Poultry welfare has come a long way. Innovations in management, research and genetics have all contributed to advancements, and they continue at a rapid pace.
Three poultry experts recently discussed some of the leading challenges and solutions in development at the
Chicken Marketing Summit
, held in the United States in July.
Their insights reflect the progress being made in providing even better care for poultry by bridging the gap between research and on-farm management.
"Welfare is nothing new to this industry," said Ken Martin, broiler production manager,
Fieldale Farms
. "It's what we thrive in."
---
Karen Chistensen, Ph.D., serves as the senior director of animal welfare at Tyson Foods and is a leader in researching poultry behavior and enrichments at
Tyson's Broiler Welfare Research Farm
. The research there is unique because it focuses on letting the chickens make the decisions on what they prefer. There, she conducted enrichment studies that gave birds the options of huts, ramps or boxes and used sophisticated technology to monitor their preferences. She and Mark Cooper, Ph.D., managing director, global genetics,
Cobb-Vantress
, cited experience with video monitoring and vocal recording technology in poultry preference research.
"I believe that the biggest improvements in bird welfare will come about as a part of these new technologies," Christensen said.
Christensen is able to test her theories well, because the facility is a commercial farm. Other research projects often partner with farmers to place these enrichments can be placed in the farm environment for further testing and practical use. Martin discussed how he has seen chickens interact with enrichments and test new products at Fieldale Farms.
"Overall, what we've seen is they'll engage with pretty much anything that's new and different when they're chicks, but they ignore it when they're older," said Martin. "But when the science is behind it, it's a good thing to do. They like items that they can hide under for example."
Christensen confirmed that items like huts appeal to poultry's desire to hide for safety, stemming from their genetic predisposition as a prey animal.
"We include them in the conversation about what's best for them."
— Karen Christensen, Tyson Foods
"I get really excited about the things she's looking at," said Mark Cooper, Ph.D., managing director, global genetics, Cobb-Vantress about Christensen's research.
Cooper discussed how genetics also influences preferences as some breeds are more inclined for high activity or preferring a certain environment than others. For example, the level of activity in a flock cannot be used as clear-cut indicator of satisfaction of the birds. Some prefer more stimulation or are more social and others prefer more peace and quiet.
"We can monitor more closely than ever before and learn a lot
about what a bird wants to do naturally."
— Mark Cooper, Cobb-Vantress
Enrichments and genetics are just two elements of the bird's journey under further research, which are key to continuous improvement in welfare. Cobb-Vantress, Fieldale Farms and Tyson Foods are all active in IPWA and working on additional welfare resources.
"I'm really excited about the direction IPWA is taking," said Christensen. "We are developing resources that will help producers and consumers understand more about the bird's journey and how we can improve it."
The experts discussed how different levels of satisfaction with different environments is a core area where those in poultry production and research should be doing more to communicate with customers.
"We've got some catch-up to do to build trust and talk to our customers, but we're ready to do it," said Christensen.
Farmers are motivated by their values and ethics to manage their flock, and it benefits them in business as well.
"Every farmer intends to do the right thing. Your goals are our goals, because it's the right thing to do, and it's our job," said Ken Martin, broiler production manager, Fieldale Farms.
"Know that we do care, and we're striving all the time to do better."
— Ken Martin, Fieldale Farms
Their insights reflect the progress being made in providing even better care for poultry by using bird research and that will translate to all farms.
"We really care about the welfare of these birds entrusted in our care," said Christensen. "There's a lot going on that's not new, and there's great technology and advancement improving things that is new. But the bottom line is the industry cares, and we're always getting better."
\\\
At IPWA, we translate the best of science and research into practical information you can use to improve welfare. To learn more about IPWA membership or subscribe for future updates, contact Candace Bergesch at
cbergesch@poultryegg.org
.